Infinity Shutters™: Built to Withstand the Aussie Sun
Welcome to the home of authentic Aussie-made Infinity Shutters™. These state-of-the-art shutters are the perfect mix of style, toughness, and practical smarts for your windows. Made locally in just four weeks, our shutters are a significant step up from your usual blinds, designed to stand up to the harsh Aussie sun.
Why Choose Infinity Shutters™ Over Blinds?
Our Infinity Shutters™ are crafted from a robust Polymer-Carbon-Glass Fibre composite, and beefed up with aluminium inserts. So, you can say goodbye to any cracks, chips, splits, or warps. These shutters are built tough, making them the go-to choice over other window treatments, like blinds.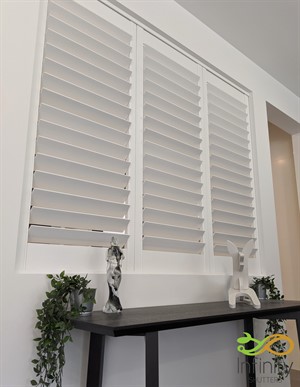 Fixed Infinity Shutters™ installed in a void opening.  
Their versatility is unmatched, whether you need them indoors, outdoors, or even as room dividers. With Infinity Shutters™, you're in control.
Customise Your View with Various Panel Choices
Pick your panels however you like – fixed, hinged, sliding, or bi-fold, all designed to give you an unobstructed view with hidden tilt-rods.
20-Year Warranty: Four Times the Industry Standard for Plantation Shutters
Our Infinity Shutters™ come with a 20-year warranty. That's four times the industry standard of 5 years for timber shutters. They're made from an environmentally friendly, hypo-allergenic, fire-retardant, and non-carcinogenic composite, so they won't need much fussing over.
Yep, we're the mob from the radio ad promising beautiful shutters fitted fast! And we stand by that promise, delivering top-quality Aussie-made plantation shutters in just a month.
Your Forever Home Deserves the Best Window Treatment
While blinds may be cheaper, they're not built to last. Our Infinity Shutters™ are a smart investment for your "forever home", and they're safer too, with no cords or pulleys that could be a hazard for the kiddos.
Available in four elegant colours: Vivid White, Bright White, Classic White, and Off-White, our shutters will add brightness to any room. And with a 20-year warranty and a bit of TLC, they'll last even longer.
Choose Aussie. Choose Infinity Shutters™ by K&B.

Have a squiz at our photo gallery or pop over to our Facebook page to see our recent handiwork and read what our happy customers have to say about us right here. 
Ready to upgrade your home with Infinity Shutters™? Contact us today to get started. 
Talk to one of our friendly consultants