"Custom made" is a phrase thrown around a lot by many salesy-type people in countless industries in presumably every country. But what does it actually mean, and should you even care?
At K&B Security Doors and Shutters, we define custom made plantation shutters to be those that are purpose-built for a particular window or opening, taking into account the unique, individual requirements of a customer. That definition demands locality. For example: an overseas manufacturing facility cannot respond quickly to a job that's been mismeasured or damaged in-transit. (Read What is the "Import Trap" When it Comes to Plantation Shutters? to find out more about common complications encountered by people purchasing cheap and inferior, imported shutters.)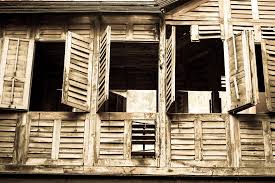 Rotting timber shutters.
Our competitors proudly boast of their ability to deliver shutters in 6-8 weeks (in actuality it's more like 8-12 weeks), whereas we can deliver our Australian made Infinity Shutters™ within 2-3 weeks to Brisbane, Toowoomba, the Gold Coast and Sunshine Coast. We manufacture each and every shutter order at our factory in Kingston, Brisbane.  
Quick Summary of Custom Made Infinity Shutters™ by K&B
2-3 Week Turnaround.
20 Year Warranty.
Shutter rails, stiles and louvres are all reinforced with an aluminium insert.
Perfect for interior or external use.
Four colour options are available: Vivid White, Bright White, Classic White and Off-White.
Sliding Infinity Shutters™ in a kitchen.
More detailed information, including product specifications can be found here.
Remember:
You don't have to wait 6-8 weeks.
Get your Infinity Shutters™ sooner from K&B.