Supa Shield
™

Security Doors
View our
Photo Gallery
for high quality pictures of recent jobs and display home fittings, or our K&B 
Facebook
page.
Don't take our word for it! Read what our customers have to say about our excellent service and high quality products - Testimonials. 
Recent blog posts related to our Supa Shield™ Security Doors and Security Screens: 
Security Screens at Unbeatable Prices.
In-Depth - The Supa Shield™ "Hook-Clamp" System.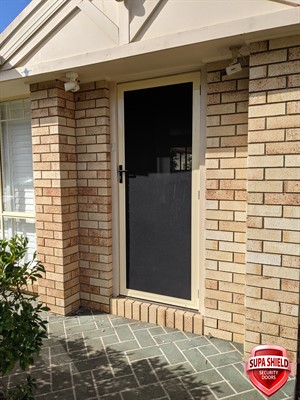 What is Supa Shield™?
Supa Shield™ is K&B Security Doors and Shutter's (K&B's) innovative way of holding .316 marine grade stainless steel woven mesh in place inside frame (used on security doors and security screens). Our 'Hook-Clamp' procedure (explored in further detail below) ensures our customers are provided with the strongest, most durable and stylish product on the market.
Our buying power allows us to sell it at a very affordable price.
Where and How are Supa Shield
™

Security Doors Manufactured?

Supa Shield™ is locally manufactured at our Meadowbrook, Logan plant. We adhere to the strictest of self-imposed quality assurance systems. Nothing gets through unless it is our absolute best. This gives our customers peace of mind. 

Furthermore, there is no middle man in our instance, which means no franchising or licensing fees. You're dealing direct with the manufacturer, from ordering your desired goods to fitting/ project completion.
Why is Supa Shield

™

 for Security Doors and Security Screens the Right Choice?
Our product differentiates itself from other systems in the way that the stainless steel .316 marine grade stainless steel woven mesh is held in place. It's done by what we call a 'Hook-Clamp' procedure (as referred to above), as the mesh is folded to "hook" inside the frame. This makes it near impossible to pull the sheet out from your doors or windows, as the mesh would have to be entirely de-creased (unlikely in your typical home invasion when speed is front of mind for a thief). 
It also comes with a lining of rubber insulation to pro-actively prevent corrosion and has passed AS 5039.  
Do Your Doors Come With Triple Locks?
Triple locks are optional, but they are required to pass AS 5039. 
What Colour is the .316 Marine Grade Stainless Steel Woven Mesh? 
This is a question that comes up from time to time. The mesh is always black for two reasons: 
1. Black is much easier to see through (think of fibreglass fly screen mesh in an insect screen), 
2. As the holes are quite small between the strands, applying a powder-coat to the mesh can result in "clotting".  
What Areas Do You Service?
We service Brisbane, Gold Coast, Ipswich, Sunshine Coast and Toowoomba.
Are Door Closers Covered By Warranty?
Short answer: no. Longer answer explaining why: here. 
Talk to one of our friendly consultants