View our 
Photo Gallery
 for high quality pictures of recent jobs and display home fittings, or our K&B 
Facebook
 page.
Don't take our word for it! Read what our customers have to say about our excellent service and high quality products - Testimonials.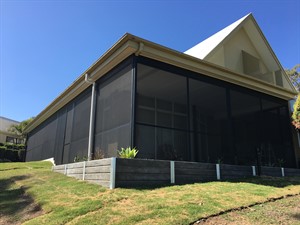 Insect Screen Patio Screened Enclosure 
Do You Only Install Insect Screens to Doors and Windows?
Absolutely not! We can professionally screen any area regardless of shape or size for insect screen doors, fly screen windows and patio screened enclosures. In fact, we have been doing so in Brisbane, Gold Coast, Ipswich, Sunshine Coast and Toowoomba for over 20 years. Your screen can be hinged, sliding, fixed, retractable* or bi-fold, and can be fitted with portholes, pet doors, or made-to-suit casement windows.
We also offer fly screens for both timber and "Queensland-er" windows, french doors and aluminium frames.
When Can I Expect Installation?
Our screen doors and windows are installed within 4 weeks from the date of order. 
What Types of Meshes Do You Offer?
Mesh (insect net) solutions include standard fibreglass fly screen mesh, paw-proof mesh, fire-proof mesh / aluminium insect mesh (suitable for bushfire prone areas) and fine screen mosquito net (to combat midgies and sandflies).
For increased strength, a horizontal bar can be added to your screen door or window screen.
All of our products are offered in an array of designs and colours to suit any taste, or match any décor.
Can K&B Install Retractable Fly Screens?
While K&B doesn't itself manufacture retractable fly screens, we can supply and install Brio 612 Retractable Pleated Insect Screens. 
Insect Screen Replacement vs. Repair?
We field at least a call a day from new and past customers asking whether we can repair their damaged screens. In almost all situations it is cheaper to replace than purchase new mesh and attempt to re-screen / change the frame. Older windows that have been in place for 10 - 20 years can become quite brittle and are susceptible to denting / breakage. 
If you're adept with a tape measure and feel confident to re-install a new screen, our supply only service might be an option to save money. 
Are Door Closers Covered By Warranty?
Short answer: no. Longer answer explaining why: here. 
Talk to one of our friendly consultants