LouvreLock
™ Aluminium Shutters
View our
Photo Gallery
 for high quality pictures of recent jobs and display home fittings, or our K&B
Facebook
 page.
Don't take our word for it! Read what our customers have to say about our excellent service and high quality products - Testimonials.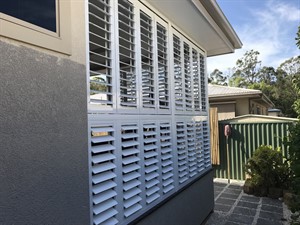 LouvreLock™ aluminium shutters for an outside entertainment areas.
Control Your Environment
™
The LouvreLock™ range of aluminium shutters includes a Standard and Plus option. They require little to no ongoing maintenance, and are ideal for indoor and outdoor applications. 
LOUVRELOCK™ STANDARD
For:
Light, Wind, Rain
Up to 1.500h
Fixed, Hinged, Pivot-Hinged
10 Year Warranty
LOUVRELOCK™ PLUS
For:
Light, Wind, Rain, Stronger Winds, Storms
1.500h+
Fixed, Hinged, Pivot-Hinged, Sliding, Bi-fold
10 Year Warranty
LouvreLock™ was designed by K&B Security Doors and Shutters. All LouvreLock™ products are manufactured in Kingston, Logan, Queensland. 
Systems: 20x56, 35x60, 40x40, 50x40
Extras: Slat Locks, Keyed Flush Bolts, Hinged / Sliding Locks + Handle Sets, Fly Screen 
Available in a range of colours. Others can be powder-coated at an additional charge.
Talk to one of our friendly consultants