View our 
Photo Gallery
 for high quality pictures of recent jobs and display home fittings, or our K&B 
Facebook
 page.
Don't take our word for it! Read what our customers have to say about our excellent service and high quality products - Testimonials.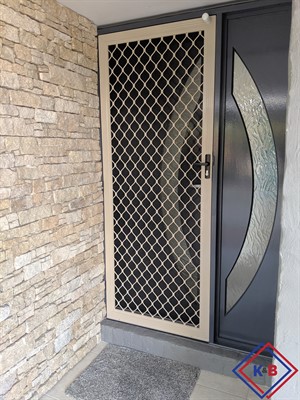 Diamond Grille Doors
K&B Security Doors and Shutters' heavy duty diamond grille for doors and screens (also referred to interchangeably as windows) is an affordable alternative to.316 marine grade stainless steel woven mesh Supa Shield™ Security Doors.
It's a long-lasting solution that provides a strong visual and physical deterrent to would-be intruders.
Hinged and sliding doors to suit both aluminium and timber applications are available, as are French, stacker, double-hung, awning and bi-fold doors.
We also stock decorative cast panel steel security doors.
All doors manufactured by K&B have three hinges for added protection, are riveted to the aluminium door frame and made with solid aluminium corner stakes which strengthen the doors' ability to absorb impacts.
All of our products are custom made at our Meadowbrook plant in Logan, Queensland, with the choice of single or three point locking systems (also known as triple locks).
All of our products are offered in an array of designs and colours to suit any taste, or match any décor. 
Steel Bars
Steel bars are a complete security solution as it is the strongest possible product with which to protect your home and keep your family safe.
K&B can supply and fit custom made steel bars, security windows and security doors, factory direct in Brisbane, Gold Coast, Ipswich, Sunshine Coast and Toowoomba.
All steel products are zinc-plated and galvanised (to prevent rusting and corrosion) before the powder-coat is applied.
Are Door Closers Covered By Warranty?
Short answer: no. Longer answer explaining why: here. 
Talk to one of our friendly consultants