Most people still refer to plantation window shutters as "blinds", lumping them in the same category as venetian, vertical and roller blinds. But there are important differences a potential buyer should be aware of before placing an order.
Cost-Effectiveness
Blinds (encompassing venetians, verticals and roller blinds) are undeniably a cheaper product than K&B's plantation shutters, however, there's a good reason why. A quick Google search reveals most companies will only offer limited warranties for blinds (between 1-5 years) often coupled with "small-print" exclusions and pick-up charges just to assess your claim (see below).
Compare this to our Infinity Shutters™ which have a 20 Year Warranty, our AllviewiQ PVC Shutters (a 15 Year Warranty) and our aluminium louvre shutters (a 10 Year Warranty). Plus, we'll never charge a customer to assess a claim, nor to correct a valid one.  
However, in some circumstances such as a tenanted investment property, blinds might be the preferred solution. At the end of the day it does come down to personal preference.
Necessary Maintenance for Warranty Purposes
All powder-coated and PVC / polymer surfaces with exposure to the sun, salt and pollution will fade / deteriorate over time without reasonable care and maintenance, as will the fabrics and componentry associated with blinds and curtains.
K&B defines "reasonable care and maintenance" as ensuring your shutters are cleaned regularly to remove any build-up of dust/dirt and pollution. This can be done with the use of a damp cloth, warm water and a neutral household detergent, while stubborn marks can be removed with a gentle application of a non-abrasive household cleaner.  Any exclusions to your coverage and industry standards we're required to meet are included in our Warranty Terms and Conditions.
Privacy / Light Control
As with any product, it's vital to ask the salesperson questions about specific attributes that will influence your final purchasing decision. If you need 100% block-out coverage on your windows for example, plantation window shutters are not for you. While shutters will significantly reduce the amount of light entering a room, industry standards allow for a 4mm-6mm tolerance between the louvre blades. In this particular instance, curtains would be an ideal solution.
Blinds can provide exceptional privacy when they're down, but not if you want to see outside. A sheer fabric overlay can be added to ensure some privacy when your blinds are up.
Sliding Infinity Shutters™ in a bedroom. 
Do-It-Yourself (DIY) Window Furnishings
Blinds are easy to measure and install, which is why Bunnings and the like stock standard sizes for the active renovator. While admittedly, shutters can be slightly more complex (we'd personally recommend organising a no-obligation, free measure and quote to guarantee the perfect fit), our AllviewiQ PVC Shutter lift-in / lift-out system installed within a suitable reveal can be done with relative ease. That is however assuming you're confident with a tape measure and drill.
Look and Feel
Lastly, as briefly touched upon in '1. Cost-Effectiveness', the quality of the materials used in the production of plantation window shutters represent a clear advantage over the limited durability of blinds and curtains. The old adage "You get what you pay for" is particularly apt.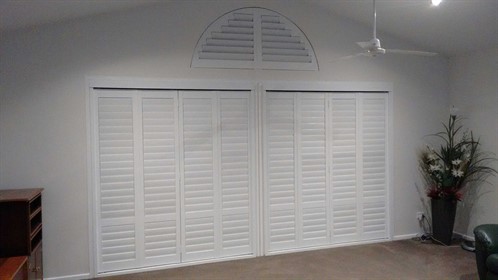 For beautiful shutters, fitted fast, contact K&B via phone, email or direct message on our Facebook page to book a free measure and quote.